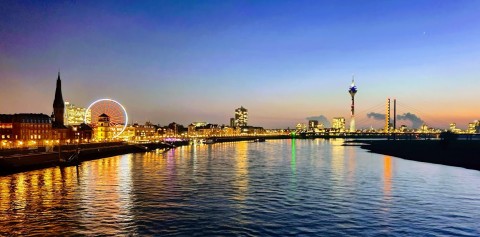 "Die Stadt Düsseldorf ist sehr schön, und wenn man in der Ferne an sie denkt, und zufällig dort geboren ist, wird einem wunderlich zu Muthe"
that is what the famous Poet Heinrich Heine said.
And after you joined "Sightrunning Düsseldorf" this is what you will feel about Düsseldorf in spite of being born somewhere else.

Come with us and do a Sightrun in Düsseldorf! We want to show you our beloved city, what makes the difference here and why the best way to do Sightseeing is Sightrunning.

Book your tour now:
Sightrunning Düsseldorf – What you will see:
We will start our tour "Sightrunning Düsseldorf" in the middle of the city in the oldtown – at the Schlossturm. We will align on chat or via phone to ensure we will meet there.
From Schlossturm we will run with you to the North, using the Promenade of Düsseldorf, leaving the core touristic area and show you the Northern part of the Rhine Park. Form there we will run up to the Northern bridge from where you can see also our the stadium, the Merkur Spielarena. The first part of Düsseldorf's sightrun is on the Eastern Side of the river.
By passing the bridge we will cross the river and show you also the western part of the river, to Düsseldorf Niederkassel and Oberkassel. Being on the Western part of during our Düsseldorf Sightrun you will have a nice view on the Altstadt if good whether conditions allow it.
On our most South spot we will cross another bridge very close to the Rhinetower. Here we will enter the southern Part of the promenade. Here you will see -depending on the time- a lot of people idling around. Tourists and people from Düsseldorf share this place as it is one of the most beautiful ones to see when doing Sightrunning in Düsseldorf.
Finally we will end at Schlossturm again, we will have ran 8 km, are a bit exhausted. You know more about Düsseldorf and are happy that you did do some Sports while you were here.
Sightrunning Düsseldorf – How we will meet
When we run run with you, we will meet at the McDonalds that is next to the Subway station "Heinrich Heine Allee". Just leave the tramstation in direction "Altstadt". We will catch you up there, do an easy walk to the river and start running there.
You will recognize us as we are the ones with Running fashion and waering "Run2Know Shirts". Of course in case of any issue, we will stay in contact via whatsapp 🙂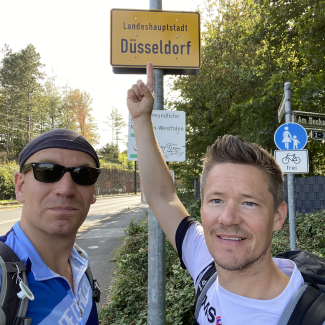 That is us, Jens and Flo.
You will most probably meet both of us as we love to team up – Siterunning is our hobby next to sport and we enjoy it!
You want to learn more about us ?
Check it out here:
And here we will meet – have a look on google maps:


We will take you with us on a sightseeing tour alongside the river Rhine, we are eager to tell you about how the hearth of the city beats.
Sightrunning Düsseldorf – What you will take away
Later when you are back, you will think:
"Düsseldorf is a very nice city and even if you are not born there, if you are far away and think of it, you will feel like being whimsical"
– as Heinrich Heine said.
You will know the difference between Oberkassel and Düsseldorf, you will know some nice spots to further do sports and if you fancy, you will also know (verbally) what is the difference between Alt beer and Kölsch beer.
Then you know that you successfully RUN2KNOW Düsseldorf with us!
Sightrunning Düsseldorf – whatelse can we offer ?
So far we offer only one tour – but if you want to run to a specific area, if you want to run faster or slower, longer or shorter… contact us and let us talk, we can also tailormade a tour for you: